You might want to buy a laptop version i.e. small laptop or netbook. After all, today's laptops have just as much computing power as desktops, without taking up as much computing power as desktops and without taking up as much space. You can this mini laptop on the road with you to do your computing. You can access internet through datacard while sitting in garden and you can do lots of other things while having fun.
So today, we 're increasing your fun by giving you top 8 mini laptops/netbooks or tablets:
1. Latest ST Tablet
The Latitude ST features Windows®-enabled power in the body of a touch screen slate, combining the mobility of a tablet with the manageability, security and compatibility you expect from Dell Latitude.
Familiar features: Hit the ground running with an OS interface you already know. Produce and edit business documents on the go with the Latitude ST, powered by Intel® Atom™ processors and running Windows® 7.
Enterprise ready: Enterprise-class security features and network compatibility let you manage the Latitude ST just as you would any other PC.
Convenient size: Starting at less than 894g (2 pounds)1, this multi-touch tablet can follow you anywhere, and with a screen size of 270mm (10.1), it's big enough for work applications.
2. Asus 1225B
The 1225B is deceptively small, yet impressively powerful. Traveling business professionals and students can easily take it with them wherever they go. The processor consumes less power and helps deliver an up to 7 hours of battery life. Users will not sacrifice comfort for portability with the netbook's full-size Chiclet keyboard and can easily zoom in and out to view photos or read documents with the netbook's roomy touchpad. It's very easy to share files with others. In addition to the 320GB HDD storage, the netbook also comes with complimentary 3GB Internet WebStorage.
3. Acer D257
The new Acer Aspire One D257 is a stylish 10.1-inch Netbook powered by the Intel Atom processor and pre-loaded with Dual boot Windows 7 Starter/Android OS . It is one of the lightest and thinnest netbook with a mere 1 kg weight. It has chic-let keyboard with larger and spaced out keys . The other features are up to 8 hours of battery life and wireless LAN Wi-Fi connectivity .
Display : 10.1-inch LED backlit, 1024 x 600 resolution
Processor : Intel Atom N455 / N550 / N570 CPU
Memory : 1GB DDR3 RAM
Hard Disk : 250 / 320 / 500GB HDD
Connectivity:
Ethernet LAN
Bluetooth 3.0 + HS (optional)
802.11b/g/n WiFi
Webcam , mic. , and speakers
Battery : Up to 8 hour backup with 6-cell battery
Ports and Slots : multi-card reader, VGA, 3x USB 2.0, audio jacks, RJ-45
Weight : 1.2 kg (3-cell) or 1.3kg (6-cell)
Thickness : 24mm thin
Operating System : Dual-boot – Android OS for quick-start and Windows 7 Starter
4. SMC EZ Style Pad SP100 Android E-Pad, Touch tablet PC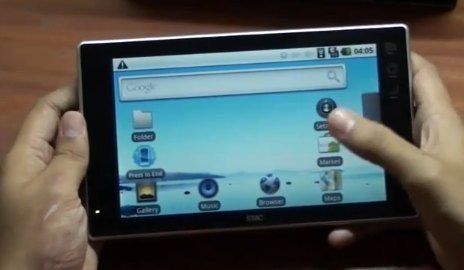 There have been regular Tablet launches in the Indian market. SMC Networks is one of more known names in the market, who have come out with their own tablet called the EZ StylePad. The Stylepad has a 7" touch-screen display with 3 touch sensitive buttons on the right next to the display for Home, back and menu function. The display is a resistive touchscreen with a resolution of 800 x 480 pixels. On the left side is a small light indicator that changes colour to indicate battery status. On the right side is the charging port, mini USB connector, mini HDMI out and a USB 2.0 port along with a 3.5mm audio jack. the backside has a plain black look with grills for speaker visible. On the bottom is a SD card slot to expand memory. The device comes with a charger, a stylus, mini USB cable and a carry sleeve.
5. Dell Mini 10 Laptop
The Mini 10 with the Atom Z530 processor (1.6GHz) that we tested costs $534 as configured. The price puts our Mini 10 beyond the usual upper limit of a netbook (though units start at under $350). In addition to the Atom Z530 processor, In this 1GB of soldered-on RAM, 802.11g Wi-Fi, an ethernet jack (10/100, not gigabit), three USB ports, headphone output, mic input, an HDMI-output, and a slightly higher-res screen than most 10-inch netbooks (1366 by 768). Frankly, the extra resolution doesn't do much at this size, and you'll find yourself squinting to read on it. You could always increase the size of icons and fonts and such, but Windows XP doesn't handle such resizing very gracefully. The reason for that video kick is in no small part due to the optional on-board HDTV tuner that came with our unit.
6. HP Mini 1000
The large, comfortable keyboard remains–and is the HP Mini 1000′s best feature–while the CPU has been upgraded from the Via C7-M to the Intel Atom. At $549, our review unit is about $50 more than our self-imposed Netbook price cap, and it surpasses the $500 mark without including a pricey, yet preferred (for a Netbook), solid-state drive. Our model features a 60GB (spinning) hard drive; SSD options up to 16GB are available.
7. HP Mini 1109TU Netbook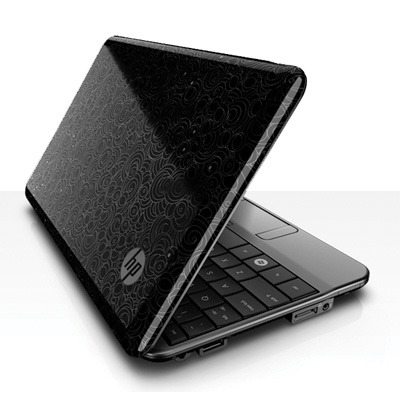 Intel Atom Processor N270 (1.6GHz, 512KB On-die L2 Cache, 533 MHz FSB)
10.1? LED Backlit Infinity Flush Gloss WideScreen Display
1GB DDR2 RAM
80GB (4200 rpm) Hard Disk
Intel Graphics Media Accelerator 950
Integrated Stereo Speakers
Integrated Web Camera & Microphones
Microsoft Windows XP Home
If you enjoyed this post, please consider to leave a comment or subscribe to the feed and get future articles delivered to your feed reader.